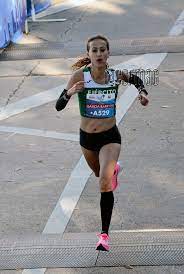 Kathya Mirell Garcia came to Houston, the first big Marathon with the clear goal of setting a PB. Two years after her debut in the marathon she reached this goal setting a time 0f 2:32:54, making the next step in her marathon career and a big one towards the 2024 Paris Olympics.
While the race ended with a new national record on the front, Kathya ran an inteligent race. On a very cold morning with temeprarutes around 3 degrees at the start and 6 at the finish she started not too motivated. Passing half way in 1:15:50 being in position 12 she improved place by place on the second half. Being in position 10 at 25k, at position 8 at 35k she was even in top 6 at 40k. Running like that and seeing many runners with faster pb's slowing down or dropping out is very motivating. Just on the last 7k the final kick was missing that someone passed her again and she finished in position 7.
Even Kathya wanted a little bit more being number 7 in a world athletics label race and improving the marathon PB by 2 min is a great success. It was just the second marathon for her and times under 2:30 will come for sure!